EVEN Celebrates Two-Year Anniversary!
FOR IMMEDIATE RELEASE
Contact:
Lin Silvan
Founder and Executive Director
Eugene Veg Education Network (EVEN)
1574 Coburg Rd., #120
Eugene, OR 97401
541-343-8055
eugvegedunet@comcast.net
www.eugeneveg.org

Eugene Veg Education Network (EVEN) Celebrates Two-Year Anniversary!
Eugene, OR --- March 5, 2007 --- The Eugene Veg Education Network (EVEN) announces its second year anniversary! EVEN's official 2nd year anniversary celebration will take place Monday, March 5, 7 pm, with a Festival of Speakers! at the McNail-Riley House, 601 W. 13th Av (@ Jefferson) across the street from the fairgrounds. This EVENt is free and open to all.
EVEN is a non-sectarian, non-profit group based in Eugene Oregon serving as a resource for those seeking information on a healthful, vegan lifestyle.
EVEN was organized by Eugene residents and retirees, Lin Silvan and Robert Jacobucci, based on a philosophy of non-violence, compassion and sustainability. EVEN's focus is on the interconnectedness of all life and how a plant-based diet benefits the earth, non-human animals, and the individual.
Its Mission Statement is to inform, educate and encourage its members---as well as the larger community---by providing access to pertinent information on veganism and its positive impact on the health of the planet and all its inhabitants.
With its important focus on outreach and education, since its March 2005 inception, EVEN has:
responded to thousands of phone calls and emails inquiring about the benefits of a plant-based diet;

established a free lending library for everyone's use;

published a dozen informative newsletters and e-bulletins;

sponsored 26 vegan educational events and speakers;

organized numerous potlucks, dineouts, and special peaceful events, such as the Compassionate Vegan Thanksgiving Potluck each November;

tabled at 40 events and distributed over 15,000 brochures, booklets, and magazines explaining veganism and its benefits to the planet, the animals, and our personal health;

garnered the support of over 600 active local participants and hundreds more throughout the US;

and, most recently, has constructed a comprehensive, educational website at www.eugeneveg.org
EVEN supports grassroots efforts, and strongly favors and promotes patronage of locally-owned businesses, whenever possible.
Festival of Speakers
EVEN's 2nd Anniversary Celebration - A Festival of Speakers!

Special Guest
Eugene Mayor Kitty Piercy kicks off EVEN's 2nd Anniversary Celebration festivities! Read the text of the Mayor's speech here.
Speakers included:

1. Linda Sappington - "Your Life Really Is In Your Hands"
Linda was born and raised in Queens, NY and she has two grown children. She never gave vegetarian/vegan lifestyle a thought until events in her life started affecting her--- from her own health to the treatment of animals. Linda is going to share with you how she learned that your life really is in your hands. She is a long-term EVEN Member and Volunteer.

2. Matt Laubach - "Living the Higher Life"
Matt grew up in Indianapolis, Indiana. His Mom was a baker and manager of the Indianapolis Public Schools cafeteria. She believed in the basic 4 food groups, and fed the family meat and canned vegetables. Matt's relatives on his Dad's side were Pennsylvania Dutch. They all suffered from overweight and diabetes.
He's been a vegetarian since August, 1972. He grew up in the psychedelic generation, and was influenced by Baba Ram Dass, Frances Moore Lappe, Viktoras Kulvinskas, and Bubba Free John. I studied Indian philosophy and became initiated in yoga meditation. Vegetarianism and Ayurvedic healing were integral practices of Ashtanga Yoga.
He has never had any craving for meat, since he gave it up 34 years ago. He became a vegan after hearing Dr. Michael Klaper and Howard Lyman about 10 years ago.

3. Ken Viscidi - "The Milk Today"
Ken currently works in product development for Turtle Mountain.
He has a soon-to-be-made public website called www.thisveganlife.com where people will be able to hear his vegan nutrition podcasts.
He has a BS in human nutrition and an MS in food science.

4. Nadine Peterson - "Vegan Spirituality"
Nadine Peterson was born in Fargo North Dakota and moved to Eugene when she was 6 months old. She was raised in Eugene, spent 20 years in the Chicago area, and then moved back to Eugene. She has been veg for 20 years and enjoys sharing her thoughts on how veganism and spirituality are interconnected.

Walter Lapchynski - "Vegan Cycling And Maximum Fuel Efficiency"
Walter Lapchynski, a veg for 17 years, is a staunch advocate of human power, having been a Cleveland, Ohio, bike messenger, and filling various roles for Eugene custom folding bike manufacturer Green Gear Cycling.
You may see him riding his handbuilt fixed gear to work (everyday!) or catch of glimpse of him and his family on their neon green triple tandem, so I'm sure you can imagine that the caloric demands for him and his active family are high, yet completely satisfied through a diet of vegan and often live food.
More info can be found at http://bikefriday.com/walterblog and be sure to visit his online forum for the local vegan community, VEUGAN, at http://veugan.forumer.com.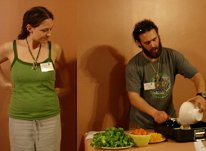 6. 7.Nick Kress and JoAnne Bergen - "Raising a Vegan Family"
They are long-term EVEN Members and Volunteers. On this special Anniversary occasion, they are going to share some yummy vegan food with us as well as some ideas on "Raising a Vegan Family".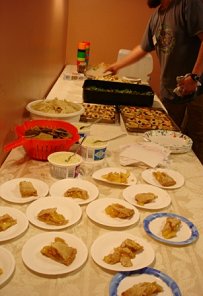 Yummy Vegan Food thanks to Nick, Tracy, Lorrie & Pat and Toby's Family Foods!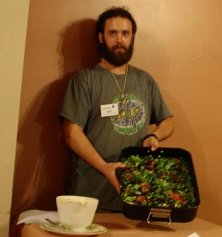 Nick with his delicious vegan Taco Dip