Eugene > Where to Shop
Featured Grocer - Capella Market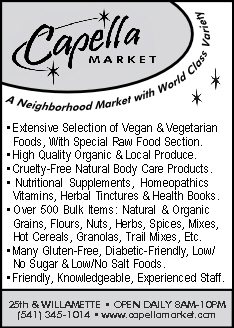 Capella Market's Produce Department emphasizes high-quality organic vegetables and fruits, locally and regionally grown when possible. And you'll find fresh herbs and mushrooms, too! Many animal-free foods (including healthful alternatives to meat and cheese) are available in the chilled and frozen cases, as well as in the grocery aisles.
The Capella Bulk Department features over 500 items! And their Natural Health Department is renowned for both its selection of supplements and the staff's impressive experience and expertise. www.capellamarket.com
Featured Grocer - Market of Choice

Thousands of Eugene neighbors call Market of Choice - My Market! That's because we offer natural and organic items right next to traditional ones - it's all about choices.
At Market of Choice, you'll find the finest produce, an extensive bulk section, incredible wines, and a complete selection of restaurant quality prepared food and scratch-made bakery delights.
Vegan options abound at Your Market of Choice. Simply look throughout the aisles. From Your Market Kitchen to the grocery aisles - healthy, fresh food awaits you.
Make us your market. We're here for you! www.marketofchoice.com
Featured Grocer - New Frontier Market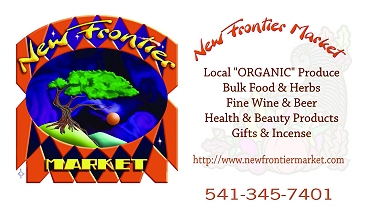 New Frontier Market
1101 W. 8th
345-7401

Featured Grocer - Red Barn Natural Grocery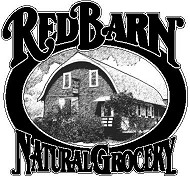 Red Barn Natural Grocery is committed to the protection of the earth's resources and the achievement of a sustainable society by offering our community an exceptional selection of quality natural and organically produced products facilitating and promoting healthy lifestyles; combined with exceptional, individualized customer service, education and community outreach.
Nestled at the southern end in the beautiful Willamette Valley of Oregon, Red Barn Natural Grocery, home of Red Barn Naturals, is one of the oldest established Natural Foods stores in Eugene, Oregon. Established in 1982, Red Barn Natural Grocery continues to nourish and educate your community with integrity, knowing we are offering 100% Organically Grown Produce (always local when available) combined with a full range of the best Natural, Local and Organic products for your pantry, health and home in a knowledgeable, friendly atmosphere.
Featuring: 100% Organically Grown Produce Department (local when available), Whole Foods, Raw Foods, Vitamins & Supplements, Natural and Organic Body Care Products, Organically Grown Bulk Foods, Natural and Organic Pet Products, Organically Produced Beer & Wine, Organically Grown Medicinal Herbs & Culinary Spices, Case Discounts and Special Orders with Red Barn Natural Grocery's Buyer's Club (If we don't stock it, we will do our best to find it for you at a discount.)
Red Barn Natural Grocery
357 Van Buren (@Blair Blvd.)
342-7503
www.redbarnnaturalgrocery.com
Featured Grocer - Sundance Natural Foods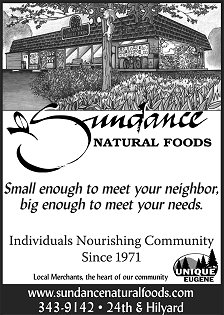 Sundance is a traditional natural food store operating in a single location on the south side of Eugene, Oregon since 1971. We boast a fabulous, all-organic produce department, a comprehensive Discount Supplements Department, and the Sundance Kitchen and Deli which is all vegetarian, mostly vegan, and features many raw foods entrees. We have a friendly, knowledgeable staff dedicated to helping customers.
The prepackaged cooler is available from 7 AM until closing time at 11 PM. The soup, green salad, raw entrée, and prepared salad bar is open from 9 AM until 9 PM, and the hot buffet is available from 11 AM until 9 PM.
www.sundancenaturalfoods.com
Other Eugene Veg-Friendly Grocers
Friendly Street Market
2757 Friendly St.
683-2079
People-friendly, Veg-friendly, Organic-friendly!
Friendly Street Market, serving Eugene for over 20 years, welcomes all to give them a try. They specialize in local and organic foods. Friendly Street Market is under new ownership and is open Monday - Saturday 8am-10pm and Sundays 9am-10pm. All are welcome! See you there!
Growers Market Food Coop
454 Willamette St.
541-687-1145.
All organic. Thursday 2:30-7:30 pm, Friday 3:00-6:30 pm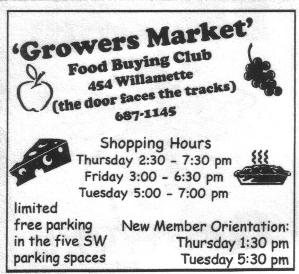 The Kiva
125 W. 11th Ave.
342-8666
Lane County Farmers Market Offices
120 West Broadway
541-431-4923
LaneCountyFarmer@qwest.net
www.lanecountyfarmersmarket.com
Market of Choice
2858 Willamette, 338-8455
1960 Franklin Blvd, 687-1188
1060 Green Acres Rd., 344-1901
2580 Willakenzie, 345-3349
www.marketofchoice.com
Organically Grown Company
To contact please email us at
info@organicgrown.com

Eugene Office
Organically Grown Co.
1800B Prairie Rd.
Eugene, OR 97402
Phone: (541) 689-5320
Toll Free: 1-800-937-9677
Fax: (541) 689-8768
http://www.organicgrown.com/
Surata Tofu
325 W. 3rd Av, Eugene
541-343-8434
Map
Begun in 1977, employing traditional and time-honored techniques to make organic tofu and tempeh, Surata Soyfoods has maintained a steadfast commitment to using only organic ingredients. Find Surata products in your local health food and grocery stores. Surata's outlet store, on the corner of 3rd and Lincoln, is open Tuesday and Thursday from 11A to 5:15P, where fresh factory seconds are available for sale. Recipes and cooking ideas are also available there or by mail. Send a SASE to: Surata Soyfoods, PO Box 652, Eugene, OR 97440.
Visit website at www.suratasoy.com
Community Supported Agriculture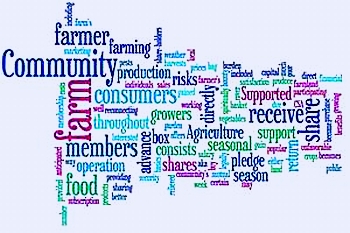 Willamette Farm and Food Coalition
1192 Lawrence St., Eugene, OR
541-341-1212
http://www.lanefood.org