EVEN Featured In:
~ 24 Carrot Award (Vegetarians in Paradise)

~ Vegan Awareness Year (Mayoral Proclamation, City of Eugene)

~ American Vegan Magazine (American Vegan Society)

~ Volunteer of the Year (United Way)
Become a Member
Please visit our sponsors!
Click on their logos below.
Veg Spotlight
Shop to Support EVEN

Use AmazonSmile for your purchases and Amazon will donate to EVEN!
Veg Wisdom
Many things made me become a vegetarian, among them the higher food yield as a solution to world hunger. - John Denver
Alex Jamieson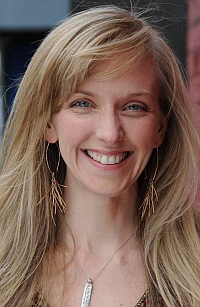 Alexandra Jamieson has been seen on Oprah, The Final Word, 30 Days and The National Health Test with Bryant Gumble. She was even featured in the award-winning documentary Super Size Me.
Why? Because Alex has proven herself to be a wise and profound voice for holistic nutrition and healthy living.
In her two books, Living Vegan for Dummies (Wiley, 2009) and The Great American Detox Diet (Rodale, 2005), Alex offers remarkably sane - and tasty - advice on how to detox, live healthfully and feel fantastic.
Her knowledge of nutrition has been artfully developed through years of both professional and self-study. As the daughter of natural health advocates, Alex crafted a unique personal mission to spread the word about the power of healthy food and the astounding ways in which it can positively transform everyday life.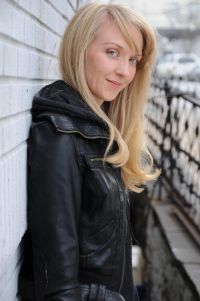 Alex now commands a matchless repertoire of nutritional wisdom and food savvy. She is a professionally trained healthy gourmet chef, having studied at New York City's Natural Gourmet Institute for Health and Culinary Arts. She refined her techniques by cooking professionally in Milan, Italy, as well as at a variety of popular New York City restaurants.
In addition, Alex is a certified health and nutrition counselor. She studied with ground-breaking pioneers in the field of nutrition at the Institute for Integrative Nutrition, which is accredited by Columbia University's Teacher's College and by the American Association of Drugless Practitioners.
Alex also traveled the world, visiting over 20 countries, premiering Super Size Me, an Oscar-nominated documentary, acting as a messenger for the power of holistic nutrition and healthy detoxing. Though she readily and ably shares her message with all, her passion is helping professional women enhance their ability to excel and achieve using healthy food as a catalyst.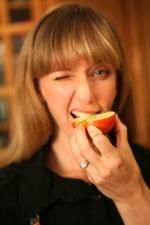 Time and again, her clients experience the magic that happens when they feel great in their own bodies. Members of her programs step up to a new level of confidence and willingly expand and explore bigger dreams and authentic goals.
A healthy and energetic vegan herself, Alex lives in New York City with her family and a lively boy cat named Sue. She is currently working on her next book and proves that living a healthy life is most definitely far from boring.
Follow me on Twitter: alexnutrition
Facebook friend me: Alexandra M Jamieson
Vegan Victories - Register Guard 1-5-10