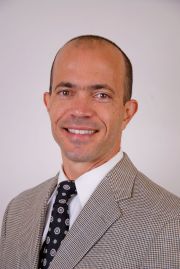 Dr. Orestes Gutierrez, DO, DABFM, DABIHM, emigrated from Cuba at the age of 4 in the infamous Mariel Boatlift. Overcoming the odds of English as a second language and Miami's inner city schools, he graduated from Florida International University Magna Cum Laude with a double major in Philosophy and Biology. During his college years, discipline and love of philosophy led him to study yoga with Dr Muata Ashby of the SEMA Institute and Swami Jyotimayananda of the Integral Yoga tradition.
Orestes graduated from the Philadelphia College of Osteopathic Medicine in 2003 with honors. While studying osteopathic medicine, he instructed a weekly yoga class for students, faculty, and staff.
He served in the US Navy from 2002 to 2007 and remained in the reserves until 2012. While on active duty, he conducted trainings on healthy habits ranging from quitting smoking to vegetarianism to yoga.
As a Family Medicine Resident at Mayo Clinic Florida, he gave a national presentation of original research on exceptional longevity and nutrition. He also won the 2009 Florida Academy of Family Physicians Distinguished Scholar Award.
In 2012 he received his second board certification for the American Board of Integrative and Holistic Medicine (ABIHM). And since 2012 he has been an Assistant Professor of Family Medicine at Western University of Health Sciences.
He currently lives in Eugene, OR and is a board-certified family physician practicing at Gutierrez Holistic Family Medicine. Orestes shares a holistic lifestyle with his wife, Pamela, and their three children. His healthy habits include a vegan diet, daily meditation and yoga, participating in the spiritual community of Unity of the Valley, and running.