VeganRama 2008
VeganRama 2008 - Cooking Demos - Come watch, learn, taste and smile. Another wonderful line-up of vegan cooks and bakers will show you how to make simple, satisfying, delicious vegan food. Just in time for the holidays!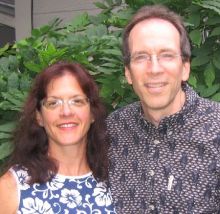 Pat & Lorrie Rather - Happy New Year Salsa
Lorrie and Pat Rather have been a team for more than 25 years and have eaten primarily vegetarian for most of their lives together. They have always been interested in health and athletics, so their response to middle age was to "upgrade" their health (and their commitment to animal welfare and environmental issues) by becoming vegans. Being educators, they thoroughly explored the implications of their decision via the latest scientific/medical research. Amazingly, they found that avoiding most of the health issues of aging was as simple as changing their diet and they are living-proof of their discoveries.
Over the years, the exploration and development of vegan cuisine has become one of their passions. "It's always an exciting challenge and a fun, creative endeavor to come up with a recipe that promotes health and yet everyone enjoys." says Lorrie. "We just finished teaching our third cooking class and it is always so exciting to watch people begin to understand that vegan food is delicious and much more than carrot and celery sticks!" Pat is a training specialist and program coordinator. Lorrie does volunteer work, gardens, and enjoys vegan cooking. Pat and Lorrie live in South Eugene, are dedicated bicyclists, and continue to study about the vegan lifestyle.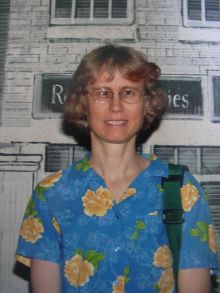 Carol Stoutland - Quinoa Salad
Dr. Carol Stoutland came to Eugene five years ago from Minnesota where she received a B.A. in Foods and Nutrition from St. Olaf College. For many years she trained as a dancer, but ultimately realized she had a greater passion for health and wellness. This led to the study of living foods and eventually Chiropractic.
Dr. Stoutland practices the NUCCA upper cervical technique – a gentle, yet powerful way to balance the body and remove stress form the nervous system. When she's not putting people's heads on straight, she enjoys growing sprouts, listening to music and doing improvisational dance. She has been a vegetarian (mostly vegan) since 1986.
Dr. Stoutland's practice, LifeGive Chiropractic, is located on Coburg Road in Eugene.
Lindsay Gasik and Rob Culclasure - Raw Vegan Pizza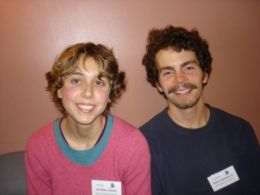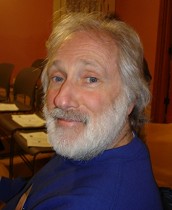 Hilliard Gastfriend - M'Jadra
Hilliard (and his wife Kate) moved to Eugene in 2006 because of the lifestyle opportunities in health, fitness, and recreation, that Eugene had to offer. He has been a vegetarian for 26 years, after being an extreme and dedicated carnivore. Unfortunately, and in hindsight, not surprisingly, that lifestyle produced negative health consequences. Nearly all of those problems (and some unexpected ones) disappeared with the change of diet.
Although health concerns prompted the diet/lifestyle change, over time concern for the planet and animal welfare increased in significance for him. Those are the major reasons that he is a proud supporter and member of EVEN—and encourages others to do so as well.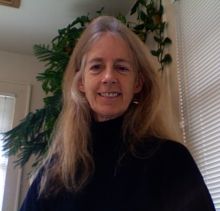 Sandy Itzkowitz - Carrot Cake
Sandy Itzkowitz became a vegan in 1980 after eliminating some significant health issues as a result of a diet change when she attended the International Natural Living Conference sponsored by the American Natural Hygiene Society. Reading the books Why Suffer by Ann Wigmore and Fit for Life by Harvey Diamond initially cued Sandy to the idea that our diet has a big impact on our health and our ability to heal. Since that time, she has also done some therapeutic fasting which cured chronic back pain and most recently asthma type symptoms.
Sandy started up the Umpqua Valley Vegetarian Society in Roseburg in 1992. She believes that good health played a big factor in her ability to heal from a serious bicycle accident in October 2006, in which she suffered a spinal cord injury and was temporarily diagnosed as quadriplegic. Fortunately after a successful spinal cord surgery, she regained some movement and relearned to walk and use her hands. She is very thankful for the incredible vegan meals that were served to her during the month she spent at Sacred Heart Medical Center. Sandy currently teaches Special Education at Adams Elementary School.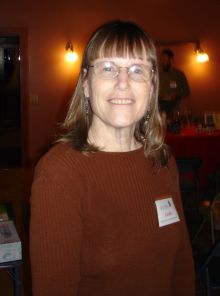 Linda Sappington - Chewy Chocolate Cookies
Linda moved to Springfield with her family in 1987. She was browsing on the computer one day in 1996 and found a vegan website with forums and many recipes. She was fascinated with all these different kinds of recipes. Her first step was experimenting with vegetarian lunches – which was quite satisfying and tasty. Next came the first vegetarian dinner which was actually vegan – it was vegetable curry which included zucchini. (It was so perfect for using some of that extra summer zucchini!)
A bout of breast cancer in 1997 interrupted this newly-discovered path. She took several vegan classes at LCC with David Gabbe while experimenting with his recipe book, and trying other collected recipes as well. The next recipe she discovered was a Veggie Chili, again using zucchini amongst ingredients. She was not vegan during this time and made the recipe with cheese, but later learned how much better it was without it. Linda lived extremely veg-friendly for a long time and finally became a full vegetarian in 2000.
Due to breast cancer again and some research on this disease, she decided to drop dairy, meat, eggs – and learned that vegan food is truly the healthier way to go. Experimenting with preparing meals a new way is quite an exciting accomplishment and rewarding especially when compliments are given on the food.
Her Chewy Chocolate Cookies tonight have always been a favorite of hers – and popular with family and friends. She decided to veganize them and hope you like them too. Who says you can't be vegan. . . and have your chocolate too!?!
---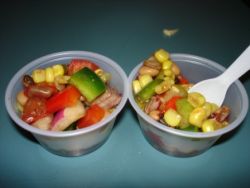 Happy New Year Salsa
by Pat & Lorrie Rather
Ring in the New Year with this simple salsa made with black-eyed peas---traditionally known to bring good luck, and in this case possibly good health! Be sure to invite all your friends because this dish feeds a crowd!
2 cans (16 oz. each) black-eyed peas, rinsed and drained
2 Cups frozen (thawed) or canned corn
1 red bell pepper, chopped
1 green bell pepper, chopped
1 tomato, seeded and chopped
1 small red onion, chopped
2 stalks of celery, chopped
1 Tbsp Tabasco sauce (to taste)
½ Cup balsamic vinegar

Combine first seven ingredients in a large bowl. Add balsamic vinegar and Tabasco sauce to taste. Toss gently with vegetables. Serve with corn chips. BEST WISHES FOR A HAPPY HOLIDAY from Pat & Lorrie!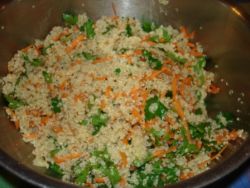 Quinoa Salad
by Dr. Carol Stoutland
2 Cups quinoa (dry) soaked 5 hours or overnight.
Drain and rinse the quinoa. Cook in 2 Cups water. (Bring to a boil, lower heat to low and simmer for 8-10 minutes.) Take off lid and fluff with fork off and on to help steam escape and reduce stickiness. Chill overnight.
Mix with:
2-3 large carrots, shredded
½-1 bunch parsley (or cilantro)
2 cloves garlic (minced)
Dressing: (Blend until thick.)
Juice from 1 lemon (2 Tbsp.)
4 T olive oil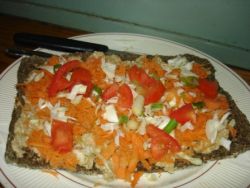 Raw Pizza
by Rob Culclasure and Lindsay Gasik
Crust:
1 Cup flax seeds
1 Cup oat flakes
2 Cups carrot greens
water
spices
Grind the flax seeds. Put all ingredients in a food processor and run until desired texture. Add enough water to achieve a thick, pasty consistency. We added cumin, coriander, garlic, cayenne, sage mustard, and thyme. Spread the mixture onto sheets and dehydrate.
Sauce:
2 Cups sunflower seeds
1 green or red bell pepper
water
spices
Remove the seeds from the bell pepper. Then, same as the crust, put all the ingredients in a food processor and run until it reaches a creamy texture. We added paprika, coriander, garlic, oregano, cayenne, mustard, marjoram, and salt. Mix well then spread a thick layer onto dried crust.
Toppings:
A few carrots
1 onion
1 tomato
Almost anything!
Grate the carrots. Dice and dehydrate the onion (or use a fresh purple onion). Dice the tomato, Spread the toppings evenly on the pizza and serve. Check out www.goneraw.com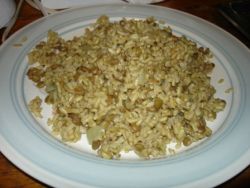 M'jadra > Rice and Lentil Pilaf: The Ultimate Middle Eastern Comfort Food!
by Hilliard Gastfriend
Below are the basic ingredients. The recipe scales up quite nicely, so you may double or even triple the recipe.
½ Cup lentils, red or green/brown
1 large onion, diced
1-1/2 Tbsp olive oil (or other vegetable oil)
Pepper and salt to taste
1 Cup brown rice
2 cloves garlic (or more!), minced or diced
2-1/2 Cups water or vegetable stock
Wash lentils and rice before using. Saute onions, garlic, and lentils in olive oil until onions are translucent. Add water or vegetable stock and bring to a boil. Add brown rice and return to boil. Cover, reduce heat, and simmer until all water is absorbed. Fluff the pilaf gently with a fork and add salt and pepper to taste.
May be used as a main course or as a side dish.
Variations:
1.Add small amounts of cooked potatoes to sauté mixture.
2.Add small amounts of pasta when adding water.
3.Add ¼ Cup of red and green peppers for a festive, holiday look.
4.Experiment by adding different spices, such as cumin and cayenne.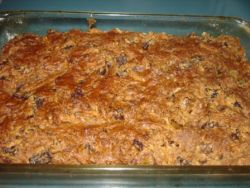 Carrot Cake
by Sandy Itzkowitz
½ Cup grated carrot
(Can also use zucchini instead of carrots.)
1-1/4 Cup chopped dates
1 Cup raisins
1-1/4 Cups water
½ Cup unsweetened applesauce
1 tsp cinnamon
1 tsp allspice
½ tsp nutmeg
¼ tsp cloves
2 Cups whole wheat pastry flour
1 tsp baking powder
1 tsp baking soda
Oil and flour and 8" x 8" pan. Preheat oven to 350 degrees. Combine carrot, dates, raisings, water, applesauce, cinnamon, allspice, nutmeg, and cloves in a saucepan. Bring to a boil, reduce the heat and simmer 5 minutes. Cool. In a large bowl, sift together the flour, baking powder and baking soda. Add the carrot mixture and stir just until mixed to a cookie dough consistency. Bake for 45-50 minutes.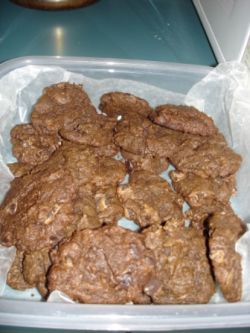 Chewy Chocolate Cookies
by Linda Sappington
1-1/4 Cup Earth Balance soy margarine, softened
2 Cups sugar
2 egg equivalents (Ener-G Egg Replacer)
2 tsp vanilla extract
2 Cups flour (your choice)
¾ Cup baking cocoa
1 tsp baking soda
½ tsp salt (optional!)
1-1/12 Cups vegan chocolate chips
½ Cup finely chopped walnuts or pecans **
In a large mixing bowl, cream Earth Balance and sugar. Add egg replacement and vanilla; blend well. Combine flours, cocoa, baking soda and salt (if using); gradually blend into creamed mixture. Stir in chocolate chips and nuts. Drop by teaspoonfuls onto ungreased cookie sheet. Bake at 350 degrees for 8-9 minutes. Cool about 1 minute before removing cookies to wire racks. Yield: 4 dozen
Variations:
o Other egg replacements:
¼ Cup soy yogurt = 1 egg
1-1/2 tsp Ener-G Egg Replacer + 2 Tbsp water = 1 egg
½ blended banana = 1 egg
¼ Cup silken tofu blended = 1 egg
** If not using nuts, add additional chocolate chips.
VeganRama 2008 Recipes - Click Here for printable version
xxx