Walter Lapchynski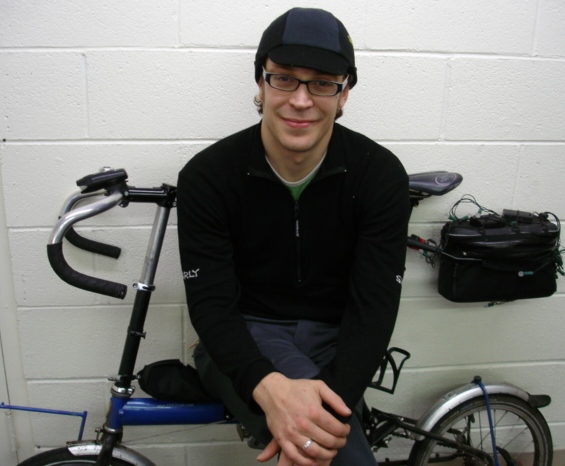 Walter Lapchynski, a veg for 18 years, is a staunch advocate of human power, having been a Cleveland, Ohio bike messenger, and filling various roles for Eugene custom folding bike manufacturer, Green Gear Cycling.
You may see him riding his hand-built fixed gear to work (everyday!) or catch of glimpse of him and his family on their neon green triple tandem, so I'm sure you can imagine that the caloric demands for him and his active family are high, yet completely satisfied through a diet of vegan and, often, live food.
Walter was one of EVEN's guest presenters for EVEN's 2nd Anniversary Celebration Festival of Speakers in March 2007 and is back by popular demand and the high interest level in vegan fitness. More info can be found at http://bikefriday.com/walterblog.
Presentation Summary
I've been veg for about 18 years. When I was about 12, the USDA was on the verge of adding a fifth food group to their recommendation, effectively creating the food pyramid. They did this based on a body of evidence that the four food groups scheme which emphasized animal products was ultimately unhealthy. I chose the somewhat more healthy way and became semi-vegetarian. I've read that vegan, being composed as the beginning and the end of the word "vegetarian" suggests taking the idea of vegetarianism to its natural end. I hadn't done that yet.
Fast forward to 1998 where I had a bit of an apparently unrelated epiphany in Hawai'i. I took an old beater of a bicycle on an errand I would have otherwise walked, bused or worse yet, drove, and realized I could get around quickly and have fun, too. Upon return to the mainland, I became a Cleveland, Ohio, bicycle messenger and strove to be in the bike industry when I came to Eugene 8 years ago. Since then, I've been working for local custom-tailored hand-crafted folding travel bike company, Green Gear Cycling, aka Bike Friday. Soon after, I began to realize how much of a difference that I as a person could make in the world. I felt compelled by all of the suffering in the world to do whatever I could personally to reduce it. I learned how being vegan could not only make me healthier, but also could help people and the environment (and animals, too, obviously!).
If you at all question what an effect one person could have, consider these simple facts:

1. Switching from a meat-based diet to a vegan one gives about a 73.3% decrease in risk for a heart attack.
http://www.goveg.com/heartdisease_cholather.asp

2. Switching from a meat-based diet to a vegan yields about a 94% decrease in food supply waste.
http://www.goveg.com/worldHunger.asp

3. Switching from the average American diet to a vegan one will reduce your CO? emissions by about 98%.
http://fatknowledge.blogspot.com/2007/04/vegans-vs-hybrids.html
Interestingly, and to my delight, similarities are there, too, with cycling. Consider:

1. Cycling from here to Danebo (4.3 mi) along the bike path every day would reduce the chance of heart disease by about 50%. By the way, here there's a nice wildlife observation area where they just installed bike racks.

2. Cycling instead of driving could reduce risk of fatal accident by about 95%.
http://webappa.cdc.gov/sasweb/ncipc/mortrate10_sy.html

3. Considering fossil fuel input, the fuel efficiency of a bike is about 75% greater than the average American mid-size car.
http://en.wikipedia.org/wiki/Fuel_efficiency

But what's even better is the beautiful combination of the two, which I can express in one great example. Given that you are riding your bike around, getting 75% better fuel efficiency, if you were to then switch from a standard American diet to a vegan one, you would further increase your fuel efficiency by about another 47%.
http://constructal.blogspot.com/2006/03/whats-mileage-on-that-bicycle.html
In other words, as a vegan cyclist, you'd be about 87% more fuel efficient than a person with an average American diet in an average American car. You'd be saving a heck of a lot of fossil fuels, reducing carbon emissions, helping world hunger, making yourself healthier and happier, and certainly saving a lot of animal lives.
Realistically, though, I don't expect everyone to be cycling. Though I've seen some determined people overcome some pretty substantial obstacles, for some people, cycling is either not convenient or simply not medically recommended. For everyone, though, there is a form of exercise that will work for them. And as long as one supplements a good diet with regular exercise, one will certainly be healthy. What many people don't realize is that a vegan diet is more than sufficient to supply all the nutrients needed for even the most rigorous exercise.
In terms of calories burned per hour, the three top forms of exercise are running at about 11 miles per hour, bicycling at over 20 miles per hour, and skiing uphill. I don't expect a lot of you will be doing this (even I don't often get up over 20 miles per hour!), so if the people that are doing this can fulfill their fuel needs with a vegan diet, then certainly us mortals can fulfill our needs. Let's consider a couple.
Take vegan, Scott Jurek, for example. He can only do about 1/2 of that 11 miles per hour when he runs, but his courses aren't typical of the average runner. In 2005, he finished the Badwater Ultramarathon in 24 hours, 36 minutes, 8 seconds---33 minutes faster than the previously "considered unbreakable" record and 2 hours ahead of his closest competitor. This 135 mile race goes across three mountain ranges, from the lowest elevation in the Western Hemisphere to the highest point in the contiguous U.S., for a total vertical climb of 13,000 feet. Oh, and it's held in July, when temperatures can get up over 130 degrees. More amazing than that, perhaps, is the fact that he has won 7 consecutive Western States Endurance Runs, a 100 mile vertical climb of over 18,000 feet.
A famous example many people know of is six-time Ironman winner, Dave Scott, who kept a strict vegan diet throughout his career. Though not as notable as Dave, Brendan Brazier is an oft-cited example of another aspiring vegan triathelete. Currently the Canadian 50k ultra marathon champion with a course record no less, Brendan is working his way up the qualifying Ironman ranks. Interestingly, Brendan also eats a predominately live food diet. Much like many of his other vegan athletes, he doesn't use supplements, either.
Luckily, you don't have to be an elite athlete to reap the benefits of an active vegan lifestyle. Brendan and has written a book called "The Thrive Diet" that not only includes recipes and meal plans, but covers exercise plans and exercise specific recipes like energy drinks and such. Believe it or not, it doesn't even include any soy! I've yet to see a copy of it as it just came out in December but I'm looking forward to getting my copy. Since I've become vegan, I have found Drs. Brenda Davis & Vesanto Melina's "Becoming Vegan" useful in making good food choices so my vegan diet is a balanced one for my level of activity.
On that same diet, my wife and I have managed to raise a beautiful daughter, have managed to tackle a metric century on our tandem, and I've got back and forth to work, to and from errands, all by bike. All the while knowing that I'm making a difference in more ways than one.