Take the Leap to Cruelty-Free Products!

Make a commitment to eliminate animal testing by pledging to only purchase products approved by the Leaping Bunny Program, which provides the best assurance that no new animal testing is used in any phase of product development by the company, its laboratories, or suppliers. The Coalition for Consumer Information on Cosmetics' (CCIC) Leaping Bunny Program administers a cruelty-free standard and the internationally recognized Leaping Bunny Logo for companies producing cosmetic, personal care, and household products.
The Marketplace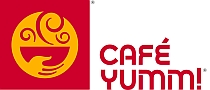 Cafe Yumm!
www.cafeyumm.com
Café Yumm!® is a casual dining experience; a delicious process that takes you from pure ingredients to the savory first bite.
Our goal is to serve beautiful, delicious, healthful, high-quality, soul-satisfying, deeply nourishing food. Food that makes our customers exclaim, "Yumm!"
Our products consist of rice and bean dishes; soups; salads; sandwiches; wraps; skewers; specialty sauces and dressings. We create a fun, eclectic environment with a clean, crisp aesthetic. Our stores offer our customers respite from their busy lives.
Café Yumm!: Soul satisfying... Deeply Nourishing

Capella Market
www.capellamarket.com
Capella Market's Produce Department emphasizes high-quality organic vegetables and fruits, locally and regionally grown when possible. And you'll find fresh herbs and mushrooms, too! Many animal-free foods (including healthful alternatives to meat and cheese) are available in the chilled and frozen cases, as well as in the grocery aisles.
The Capella Bulk Department features over 500 items! And their Natural Health Department is renowned for both its selection of supplements and the staff's impressive experience and expertise.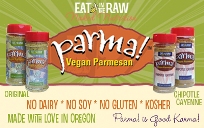 Sister River Foods/Parma!
www.eatparma.com
Here at Sister River Foods, we are dedicated to providing healthful, pure products. We use only the highest quality ingredients and nothing that you can't pronounce. Our recipes are simple, nutritious, and great tasting. Our mission is to provide healthy, earth-friendly culinary delights, uplift humanity's consciousness through business, and leave the world a better place than when we found it.
Parma! is completely natural. It's wheat-free, gluten-free, non-GMO, and candida-free. Parma! is made here in Southern Oregon using only raw organic walnuts, Red Star nutritional yeast, Celtic sea salt, and love. Parma! is a high potency food source of Omega 3's, B-12, and trace minerals. Parma! is sugar free and contains no artificial anything -- and it's enzyme rich. Lastly, Parma! tastes great! It's a product the entire family will love and will benefit from. Try Parma! on popcorn, salad, pizza, rice, greens, and more. See our web site for more information www.eatparma.com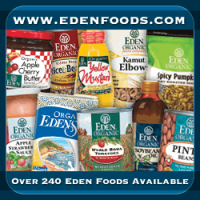 Eden Foods
www.edenfoods.com
Eden Foods is a rare 38 year pioneer manufacturer of organic, traditional, and natural foods including Edensoy®, pasta, grains, beans tomatoes, sauerkraut, fruit, snacks, green teas, macrobiotic food and more. Still family owned and operated by people committed to the most delicious, nutritious food made with the highest integrity. Eden nurtures over 50,000 acres of USA family-owned, organic farmland.
Eden means: no irradiation, no preservatives, no toxic additives, no food colorings, no refined sugars, no genetically-engineered ingredients. The safest, most nutri tious, certified organically grown food that can be found. Visit http://www.edenfoods.com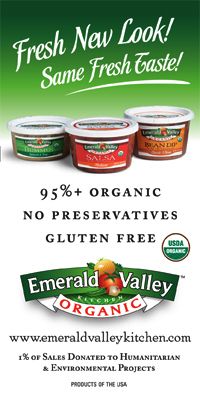 Emerald Valley Kitchen
www.emeraldvalleykitchen.com
Emerald Valley Kitchen, an Oregon-based manufacturer of organic salsa, bean dips and hummus has been an award-winning socially responsible small business and leader in the organic food industry for over 20 years. Founder, Mel Bankoff, started the company in 1983 with $125 in supplies and a desire to make healthy, delicious organic food and a commitment to sustainability.
Although he sold Emerald Valley Kitchen to Monterey Gourmet Foods in 2002, Emerald Valley Kitchen continues its mission of supporting organic farming practices and educating the public of its importance. All foods produced by Emerald Valley Kitchen are additive and preservative free and certified organic, which means that their products have the highest quality and maximum amount of organic ingredients available.
Emerald Valley Kitchen has been the recipient of numerous awards for social responsibility.

Follow Your Heart® Market and Café, is one of the oldest and best loved vegetarian eateries in all of Southern California, as well as being the birthplace of Vegenaise® (aka Veganaise™), our award-winning dressing and sandwich spread which is eggless, dairy free, gluten free, wheat free, non-GMO and has no cholesterol.
Please click on the above banner to find information about our other product lines: Vegan Gourmet® Dairy Alternatives, Fresh and Natural Dressings, Organic Dressings, and the Unforgettables® Balsamic Sauces. We offer our products as a fresh and natural way of getting homemade, refrigerator-fresh, dairy free dressings and dairy alternatives from a name you can trust — Follow Your Heart®.



HealthForce Nutritionals
http://www.healthforce.com/home/
HealthForce Nutritionals is a 20+ year 100% hardcore vegan therapeutic superfoods company. HealthForce was co-founded in 1990 by Jameth Sheridan and Kim Sheridan, ethical vegans and hardcore herbal medicine researchers. HealthForce Nutritionals empowers individuals to experience dramatic health improvements with verified TruGanic™, Vegan, Raw, Superfood products formulated and selected by Jameth Sheridan for vibrant health and wellness.
The #1 SOURCE FOR RAW, VEGAN, BIO-COMPATIBLE, NUTRITIONAL SUPERFOODS!™

Thousands of Eugene neighbors call Market of Choice - My Market! That's because we offer natural and organic items right next to traditional ones - it's all about choices.
At Market of Choice, you'll find the finest produce, an extensive bulk section, incredible wines, and a complete selection of restaurant quality prepared food and scratch-made bakery delights.
Vegan options abound at Your Market of Choice. Simply look throughout the aisles. From Your Market Kitchen to the grocery aisles - healthy, fresh food awaits you.
Make us your market. We're here for you! www.marketofchoice.com
New Frontier Market
1101 W. 8th
345-7401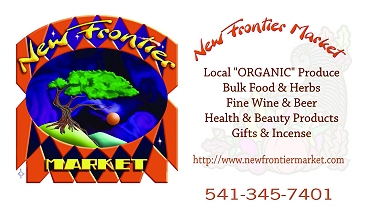 Red Barn Natural Grocery
www.redbarnnaturalgrocery.com
357 Van Buren (@Blair Blvd.)
342-7503
Red Barn Natural Grocery is committed to the protection of the earth's resources and the achievement of a sustainable society by offering our community an exceptional selection of quality natural and organically produced products facilitating and promoting healthy lifestyles; combined with exceptional, individualized customer service, education and community outreach.
Nestled at the southern end in the beautiful Willamette Valley of Oregon, Red Barn Natural Grocery, home of Red Barn Naturals, is one of the oldest established Natural Foods stores in Eugene, Oregon. Established in 1982, Red Barn Natural Grocery continues to nourish and educate your community with integrity, knowing we are offering 100% Organically Grown Produce (always local when available) combined with a full range of the best Natural, Local and Organic products for your pantry, health and home in a knowledgeable, friendly atmosphere.

Sundance Natural Foods
www.sundancenaturalfoods.com
Sundance is a traditional natural food store operating in a single location on the south side of Eugene, Oregon since 1971. We boast a fabulous, all-organic produce department, a comprehensive Discount Supplements Department, and the Sundance Kitchen and Deli which is all vegetarian, mostly vegan, and features many raw foods entrees. We have a friendly, knowledgeable staff dedicated to helping customers. The prepackaged cooler is available from 7 AM until closing time at 11 PM. The soup, green salad, raw entrée, and prepared salad bar is open from 9 AM until 9 PM, and the hot buffet is available from 11 AM until 9 PM.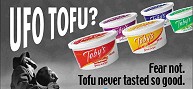 Toby's Family Foods
www.tobysfamilyfoods.com
Toby's Family Foods is all about that warm feeling you get from eating smart. We're about wholesome, nutritious foods made to a standard of quality that drives our business decisions. We love the lactose-intolerant, the carnivore, the vegetarian, vegan and semi-tarian, the alternative-seeker, those in a hurry and those moving slow. We are for the snacker and the meal-maker. We offer you tofu paté and award-winning dairy-based salad dressings. You bring us the inspiration to continue walking the path to "man, that's good." Spread the word.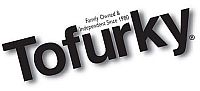 Turtle Island Foods
http://www.tofurky.com/
At Turtle Island Foods, our Tofurky® and tempeh products are created to promote the health and vitality of both the people and the ecosystems of our "island" home. For almost 30 years we have worked to create delicious, nutritious, convenient and affordable vegetarian food that make a difference in people's lives and have a minimal impact on our environment.
We are located in Hood River, Oregon, one hour east of Portland. We make our vegetarian products in small batches using only the finest organic and natural ingredients. No preservatives, MSG or other artificial ingredients are added to our products. All of our products are kosher, vegan, and made with organic soybeans and/or organic tofu. We are a family owned and operated company.
Vegan Essentials
www.veganessentials.com







VeganEssentials.com has been serving the vegan community with their cruelty-free shopping needs since 1998! At our site, you'll find over 1200 different all-vegan items, including food and sweets, shoes and non-leather accessories, vitamins and supplements, bath and body care, shirts and message gear and much more. We ship internationally and offer fast, friendly service to those needing products for a cruelty-free lifestyle. A vegan-owned and -operated business!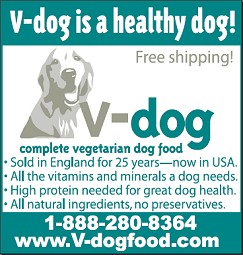 V-Dog
www.v-dogfood.com
And while you're choosing to be particular for your own health, why not extend that care and quality to what you feed your canine 'companimal'. We assure you that the pet over which you are guardian is a staunch animal rights advocate, too.
10% discount to Eugeneans mentioning this ad!