As Featured In:
~ 24 Carrot Award (Vegetarians in Paradise)

~ Vegan Awareness Year (Mayoral Proclamation, City of Eugene)

~ American Vegan Magazine (American Vegan Society)

~ Volunteer of the Year (United Way)
Become a Member
Please visit our sponsors!
Click on their logos below.
Veg Spotlight
Shop to Support EVEN

Use AmazonSmile for your purchases and Amazon will donate to EVEN!
Veg Wisdom
I take vitamins daily, but just the bare essentials not what you'd call supplements. I try to stick to a vegan diet heavy on fruit, vegetables, tofu, and other soy products. - Clint Eastwood
Robert Cheeke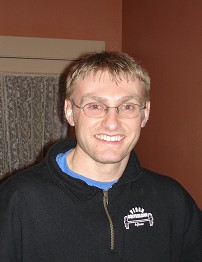 Robert Cheeke grew up on a farm in Corvallis, OR and at age 15 decided to give up meat for good. Months later he became a complete vegan and began organizing Animal Rights events at Corvallis High School and was very active in the community working on a variety of environmental issues. He helped start recycling programs, protested the clear cutting of forests, and was heavily involved in Food Not Bombs, feeding vegan meals to the public.
After high school Robert attended Oregon State University and then moved to Utah. He graduated from the Utah College of Massage Therapy and began a 4-year career working as a massage therapist, including 7 months on a cruise ship touring many parts of the world.
As an athlete, Robert ran cross country for Oregon State University and picked up an interest in weight-lifting. He soon became a competitive bodybuilder.
In 2002, Robert started Vegan Bodybuilding & Fitness, a company dedicated to promoting the vegan fitness lifestyle, empowering vegan athletes, and living by the words, "healthy food defines you."
In the spring of 2005, Robert became a champion bodybuilder when he won a contest in Portland, OR, and he later competed at the Natural Bodybuilding World Championships held in California that fall.
In 2006, Robert was selected as one of VegNews Magazine's 15 most influential vegan athletes, and is now considered one of the most recognized vegan athletes in the world. Robert has been featured in more than 20 magazines from the US, Canada, Denmark, Germany and the United Kingdom. He has appeared in TV commercials for VegSeattle and PETA, and has been on a number of television news shows, radio interviews, and is currently featured on over 100 websites.
Also, in 2006, Robert released 'Vegan Fitness Built Naturally', a DVD Documentary that has been sold to people in more than 15 countries and to all corners of the US.
Recently Robert has focused his energy on organizing events. In 2006 he organized the Vegan Vacation held in Portland, and the Vegan Holiday Festival, also held in Portland which attracted 1,000 people from a number of western states.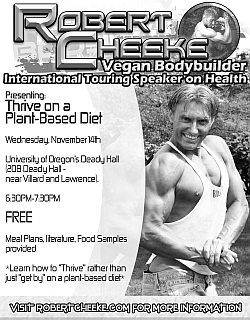 Robert is the co-founder of C-VEG, a Corvallis-based Vegan group inspired by EVEN, the Eugene Oregon Vegan Society. He is a board member for OrganicAthlete, a Board member for NW Veg Group in Portland, and the President of Vegan Bodybuilding & Fitness. He works with a number of organizations including PETA, IDA, and is a writer for multiple magazines and websites covering vegan and fitness issues.
Currently Robert works full-time for Sequel Naturals as a representative for Vega, a line of vegan whole food products, and also works full-time directing his Vegan Bodybuilding & Fitness organization.
Robert lives in Portland in a vegan household and continues to spread the vegan way of life leading by example as an accomplished vegan athlete.
See his website here: http://veganbodybuilding.com/