About EVEN > Supporters
Supporters are the
very backbone of
EVEN's efforts!
Everything EVEN does is offered free to the public. Since 2005, our vegan educational efforts have continued (and grown!) in great part because of the thoughtful support of Local and National people.
This is only a partial list, but EVEN sends heartfelt appreciation to everyone for donations, memberships and encouragement. Thanks to all of you, EVEN is thriving.
<---Click on Local and National in the side menu for more details.
Media Support of EVEN
EVEN - A Resource Making a Difference by Rebecca Barnett, American Vegan Society
The Eugene Veg Education Network (EVEN) was cofounded by Lin Silvan and her husband, Robert Jacobucci. I had the pleasure of interviewing Lin. I was floored by her passion, energy, selflessness, and tireless dedication to vegan education.
When Lin and Robert retired to Eugene Oregon in 2002, they set out to turn their part-time advocating into a full-time endeavor. Lin's career had focused on all aspects of education and training for corporate America, and Robert had been a physicist. They founded the Eugene Veg Education Network (EVEN) in 2005, in time to have booths for Earth Day celebrations. Emphasizing their core values of compassion, nonviolence, and sustainability, EVEN has been flourishing under their leadership.
Lin shared generously about her full-time work at EVEN, and the principles she turns to when challenges arise. We asked how she holds tight to her core values since these are the philosophical basis for her work as an activist and a leader.
"With compassion, we become like everything in the world that is excellent," she says. "Compassion, along with integrity, creates a solid, unbreakable, unshakable backbone for any vegan venture. Any venture!" >>MORE
Vegan Nation - Register Guard - June 17, 2015
"Veganism is a lifestyle," explains Lin Silvan, co-founder and executive director of Eugene Veg Education Network, also known as EVEN, a nonprofit organization dedicated to providing information on the benefits of veganism. "It's certainly about eating a plant-based diet, but there are so many other aspects."
"...It's about seeing the interconnectedness between our eating habits and how it affects the world..." >>MORE
U of O blog by Katie Higgins - March 2015
Shortly after retiring, Silvan and her husband moved from Idaho to Eugene, Oregon. They were excited to move to Eugene since it is known as a green city.
One day Silvan and her husband Robert went to a local Earth Day festival. They were shocked to see out of the many booths, none were dedicated to the vegan lifestyle. After being a vegan for 11 years, Silvan couldn't believe that an earth day festival would overlook the lifestyle that helps "not just the animals, but the planet." >>MORE
KVAL - Vegan Share Fair - August 2012
Lin Silvan and her husband had a hard time finding information on the vegan lifestyle when they retired, so they took matters into their own hands, dedicating their lives and their retirement to educating others.
They set up the Eugene Veg Education Network, or EVEN. It is a non-profit organization with a simple mission: make transitioning into a vegan lifestyle as easy as possible for people.
Not everyone agrees or is interested in a vegan lifestyle, so in order to help spread the word they held a Share Fair inside the McNail-Riley House. Putting together a collection of all things veg. From meatless meat, cookies made with potato starch and even make-up, they had a little bit of everything. >>MORE
United Way Volunteer of the Year Nomination - April 19, 2012
United Way honored Lin Silvan at their Annual Volunteer of the Year Award luncheon at the Eugene Hilton on April 19, 2012. Volunteering hundreds of hours per month since 2005, it was encouraging and heartwarming to have a group like United Way recognize EVEN's efforts. They nominated Lin in a category called "Essentials for Life" which was the area that emphasizes education and information that helps others. This is what they said >>MORE
Oregonian Live/MyEugene.org - Interview with EVEN — 10/12/11
EVEN, an official 501(c)(3) non-profit organization, started out very small, with just Silvan and Jacobucci tabling at the Earth Day celebration at University of Oregon and downtown Eugene. But EVEN quickly grew into Eugene's largest vegan education resource. >>MORE
Register Guard/United Way - EVEN in Volunteer Spotlight — July 31, 2011
Lin Silvan selected for monthly Volunteer Spotlight as Register Guard Recognizes EVEN as a Community Leader. >> MORE
Eugene Weekly, 7/7/11
Rooster Feathers - Hair Cool or Hair Cruel?
Silvan/EVEN - I think it's important to ask if you think you look cool, or cruel. How refreshing it would be to make decisions---food, fashion and otherwise---that were not at the expense of someone else. Mankind never seems to run out of atrocious ways to inflict pain and death on other creatures for his appetite, his vanity, or his profit. >> MORE
U of O Ethos Magazine Interview with EVEN — 2/23/11
What you choose to eat impacts more than just your own body. It affects other humans, the health of the planet, and the non-human beings that we share it with. >> MORE
U of O Daily Emerald Interview with EVEN — 11/2010
Daily Emerald: Why did you become vegan?
Lin Silvan/EVEN:
Ethics. Ethics alone. Why should any meal I chose to eat ever require taking the life of someone else? Someone whose life matters just as much to them as mine does to me? Someone whose heart beats in him just like yours or mine? Someone who would surely run away from us if given the chance? In a modern world-a-plenty with so very many alternatives, how could I ever justify such unfairness? We can't always make perfect decisions, but what we can do is make the most compassionate decision as possible at any given time.
I grew up on your typical SAD (Standard American Diet), >>MORE
How to Launch a Veg Group — 9/23/10
If you are vegetarian, you probably enjoy getting together with others who choose a plant-based diet. A local vegetarian group is a fun, convenient way to meet like-minded new friends. >>MORE
Meatout Mondays - Inspiration ---> EVEN FARM feature — 2/19/07
After years of working in the business world, Lin Silvan and Robert Jacobucci decided to retire early and get active to make a difference in the world. Turning veg together, the couple moved to Eugene, OR where >> MORE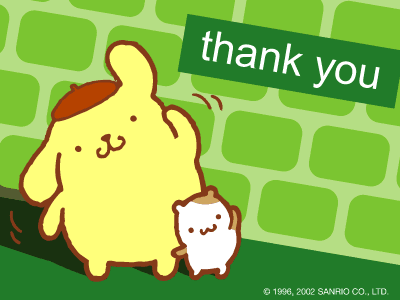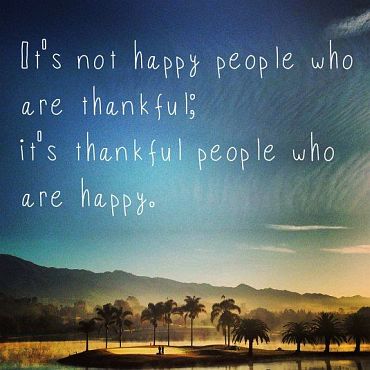 ---
Dr. Ruth Heidrich
Dr. Ruth Heidrich, 6-time Ironman Triathlete, winner of more than 900 trophies, 8 Gold Medals in US Senior Olympics, 67 marathons including Boston, New York and Moscow, and a breast cancer survivor.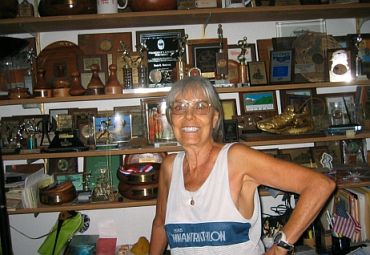 Dr. Ruth in Trophy Room
Read EVEN's exclusive interview with Dr. Ruth HERE
Dr. Will Tuttle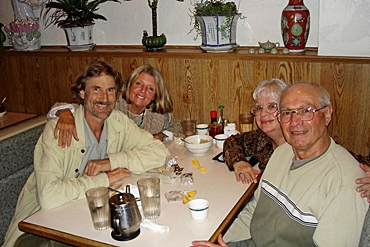 Will and Madeleine Tuttle at Lotus Garden with Lin and Robert
How could it ever be to our purpose to rob another living being of his or her purpose? - Will Tuttle

Source: The World Peace Diet by Will Tuttle, PhD
Read EVEN's exclusive interview with Dr. Tuttle HERE
Dr. Orestes Gutierrez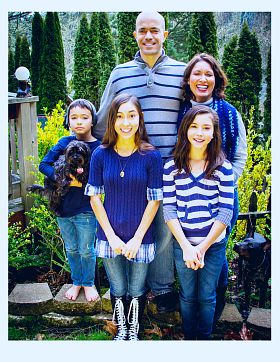 Dr. Orestes Gutierrez and Pamela with Boone, Sofia, Maria and canine friends, Jackeo and Moe.
Read EVEN's exclusive interview with Dr. Gutierrez HERE

FREE! Receive invitations, announcements, newsletters and more, on local and national events and issues.

Send an email with the word "Subscribe" in the subject line to: eugvegedunet@comcast.net