About EVEN
Exclusive EVEN
Interview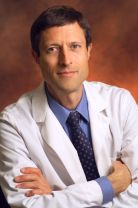 Neal Barnard, MD

President, Physicians Committee for Responsible Medicine (PCRM)
EVEN Interviews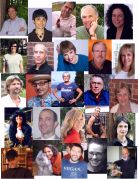 Read ALL of EVEN's Exclusive Interviews

EVEN

Non-violence Compassion Sustainability

--- EVEN - Serving as
a vegan resource
since 2005 ---
Veg Wisdom
The wild, cruel beast is not behind the bars of the cage. He is in front of it. - Axel Munthe, Swedish Physician, Psychiatrist and Writer (1857-1949)
EVEN Featured In:
~ 24 Carrot Award (Vegetarians in Paradise)

~ Vegan Awareness Year (Mayoral Proclamation, City of Eugene)

~ American Vegan Magazine (American Vegan Society)

~ Volunteer of the Year (United Way)
Become a Member
Please visit our sponsors!
Click on their logos below.
Veg Spotlight
Shop to Support EVEN

Use AmazonSmile for your purchases and Amazon will donate to EVEN!
Veg Wisdom
It's far more important to know what person the disease has than what disease the person has. - Hippocrates (460 BC–380 BC)
Wendy Liberko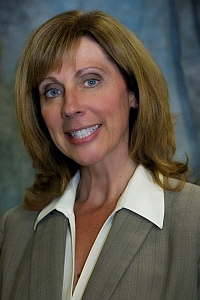 Wendy Liberko has published and publicly shared her veg menus and creations for 14 years. She was Chairperson for the 1992 El Dorado County Humane Society Cookbook and for the 1996 Wilderness Ranch Sanctuary for Farm Animals Cookbook. In 1999 she was a Vegetarian Cooking Instructor for the San Carlos Park and Recreation District. Wendy was also a contributing chef in 2000 for the Animal Place Veggie Cook-off and for Veggie Cook-offs in 2001 and 2003. She is co-author of Planet-Friendly Kids---a Vegan Cookbook for Kids Ages 6 and up.
Wendy (a vegetarian for 20 years), her husband, Steve, and daughter, Ivy Rose (also vegetarians), are active community members supporting many planet-, people- and animal-based organizations---including EVEN!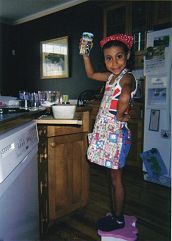 Wendy has telecommuted for 7 of her 12 years as an executive in the staffing industry. She currently works for Adecco's North American Headquarters in New York. This busy mom works an average of 60 hours per week, and estimates that she has flown over 75,000 miles this past year!
Wendy was raised in Eugene and moved back 2-1/2 years ago from Sacramento to raise her daughter nearer to family in Eugene's smaller, healthier, and safer environment.
Wendy's vegetarian philosophy: "Ethical decisions and abundant health make a vegetarian lifestyle the obvious choice for my family. Information, planning and great food make it a joy!"
Pictured (upper right): Ivy Rose, Wendy & Steve's daughter, whipping up something veg-yummy in the kitchen!