Will Tuttle, Ph.D.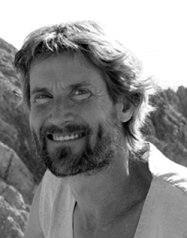 Dr. Will Tuttle, acclaimed pianist, composer, educator, and author, has lectured and performed widely throughout North America and Europe. He has been traveling with his spouse, Madeleine, full-time for 16 years in their solar-paneled "rolling home," presenting over 150 lectures, retreats, workshops, and concerts annually through colleges and university groups, progressive churches, conferences, spiritual gatherings, and for yoga, meditation, vegetarian, environmental, peace, and social justice communities.
Devoted to cultural healing and awakening, he is a Dharma Master in the Zen tradition, and his Ph.D. degree from the University of California, Berkeley, focused on educating intuition and altruism in adults. He has taught college courses in creativity, humanities, mythology, religion, and philosophy, and has created 7 CD albums of original piano music. He is noted for his clear and inspiring presentations, which often include evocative animal paintings by Madeleine, a visionary artist from Switzerland.
Born in 1953 in Concord, Massachusetts, he learned to swim in Walden Pond, and was immersed in the Concord Transcendentalists from an early age. Inspired to go on a spiritual pilgrimage following his graduation from Colby College, he left home in September, 1975, with his brother, Ed, heading west toward California, in a dedicated search for higher consciousness. Their many months of walking brought them eventually to The Farm, the largest commune in the world at that time, and it was there that Will became a vegetarian.
Will eventually moved to San Francisco, where he lived in both Tibetan Buddhist and Korean Zen meditation centers, and became a vegan in 1980. In 1984, he completed his M.A. degree in Humanities at San Francisco State University, focusing on Zen arts, and was the first person at S.F.S.U. to use the language of music to fulfill the foreign language requirement for his master's degree. He had a 4.0 GPA and received the Graduate Student Distinguished Achievement Award.
Spiritual People Moving Toward Veganism?
Shortly after this, Will shaved his head and headed to Korea to live as a Zen monk in Songgwang Sa Zen temple, one of the largest and most respected Zen centers in Korea, where he undertook a traditional 90-day silent intensive meditation retreat. Upon returning to the States, he began teaching college courses in philosophy, humanities, and religion, and enrolled at UC-Berkeley, where he studied in the Graduate School of Education and received his Ph.D. in 1988, focusing on educating intuition. He had a 4.0+ GPA at Berkeley, and his dissertation was nominated for the Best Dissertation Award.
After several years of full-time college teaching, he decided to focus on music composition and performance and spent the next fifteen years creating albums of original uplifting piano music, and performing extensively throughout North America and Europe. He met his future spouse, Madeleine, in Switzerland, and they have been traveling full-time since 1995, presenting lectures, concerts, retreats, exhibits, and workshops.
In 2005, Dr. Tuttle published his ground-breaking book, The World Peace Diet, the first book to give the big picture of the consequences of eating animal-sourced foods. He now focuses much of his time on spreading the vegan message through lectures, and through training people to be World Peace Diet facilitators, so they can spread the message of compassion for all life in communities throughout the world. He is noted for his clear and inspiring presentations.
Return to Will Tuttle's EVEN Interview HERE
---
Will Tuttle's Time to Wake Up
Presentation to EVEN - 10/2/13