Dr Leslie Van Romer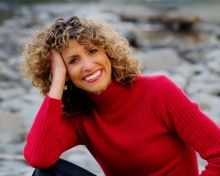 Dr Leslie Van Romer, author of the fun, spunky, uplifting weight-loss book, Getting into Your Pants, and its companion workbook, Getting into Your Pants PlayBook, is a chiropractor, motivational health speaker, and weight-loss cheerleader. Offering simple direction and hope, she empowers individuals to lose weight, boost health, and feel good about themselves – the unique, brilliant, and rare human beings they are! Dr. Leslie's passion for life and people are infectious and make her very accessible and approachable.
Dr. Leslie has spent nearly thirty years building a thriving, full-time practice, developing a wide variety of motivational health presentations, creating her own registered eating program, called 10+10 for Life, and producing a series of CDs and DVDs on health-related topics, such as diabetes, osteoporosis, aging, menopause, and weight loss. She is the author of over 125 articles, many of which are published, and writes Dr. Leslie's Lifelines, a weekly on-line newsletter.
Dr. Leslie has expertly helped thousands of people, whether vegetarian, vegan, raw, or Standard American Dieters, sort fact from fiction, shift their eating and lifestyle choices, and shed the layers, from the inside out. She lives her talk and leads by example. By eating a low-fat, low-salt, no-sugar, vegan diet for years, with emphasis on fresh fruits and vegetables, and exercising at least one hour every day, Dr. Leslie maintains her ideal weight and optimal level of energy, fitness, and health.
As a single mom, Dr. Leslie raised three children in the foothills of the Olympic Mountains in Sequim, Washington. They are now young adults and successfully finding their own paths.
www.gettingintoyourpants.com
Dr.Leslie@DrLeslieVanRomer.com

---
You are the master of your own choices and either the beneficiary of or the slave to the consequences. - Dr. Leslie Van Romer
The only slip-up is to give up. - Dr. Leslie Van Romer
You've got to be different to make a difference.
- Dr. Leslie Van Romer
---
A Message from Dr. Leslie Van Romer to Y-O-U!
Dear Honorable and Distinguished Members and Friends of EVEN, Thank you so much for inviting me to speak to you on January 5th. It was truly my thrill to share my thoughts, my work, and my lifelong passion to help people transition to their next level of health and vibrancy.
Continue your noble and worthy journeys to be ALL that you were born to be and shine your brightest, boldest light on the world and lead the way!
I love you truly,
Dr. Leslie Van Romer
Praise for "Getting into Your Pants"
Praise for Pants
"One can't put forth their B game when they are attempting to lose those pounds - one needs to put forth total effort or it simply is not going to work. Getting Into Your Pants: Add 10+10 for Life! is a deftly composed and easy to follow dieting guide to help anyone start to shed those pounds - and unlike most fad diets, it promotes a change that will push readers to not lose them for a few months but to keep them off for their entire lives, avoiding the up and down hilly slope so many advertised diet plans promote. Getting Into Your Pants: Add 10+10 for Life! is highly recommended for community library collections dedicated to health and weight loss and for anyone who, as the title says, wants to get into those pants."
- Midwest Book Review for Getting into Your Pants
"This is NOT a book! This is an opportunity… an opportunity to live longer, live healthier and live in the body you've always dreamed of. Dr. Leslie's brilliant strategies will liberate you from the life threatening disease of dieting. In each powerful lesson you'll effortlessly lose the fat and keep it off forever. This opportunity will save your life!"
- Dr. Tony Palermo, Success Coach
"All I can say about Getting into Your Pants is well-done! With its down-to-earth tone and conversational writing style, it's a fun and easy read. Better yet, 10+10 is a nutritionally sound, common sense program with three simple rules. Just follow the rules, and you will lose weight while improving your health,"
- Alan Goldhamer, D.C., co-author of The Pleasure Trap.
"When it comes to sanity and efficacy, most of the weight-loss plans and diets fall badly short, leaving a trail of disappointment and frustration. But then along come Leslie Van Romer and her remarkable book, Getting into Your Pants. Her wisdom, her knowledge and her empathy are a gift to anyone who has struggled with weight. This wonderful book provides legitimate help to anyone who puts its liberating ideas into practice."
- John Robbins, author of Diet For A New America, The Food Revolution, and Healthy At 100.
"Wow! Finally, a fun, upbeat, highly motivational, anti-diet, weight-loss book that empowers you to do exactly that – get into your pants and stay in them! Uncannily, Dr. Leslie seems to read your mind and see into your soul, enabling her to guide you through the shedding process – shedding fat and right along with it – your insecurities. She helps you dig deep and then lifts you up, inspiring you to take that next, bold step toward your ideal body, weight, and health. Dr. Leslie offers hope and makes you believe in you. You can do it!"
- Susan Smith Jones, Ph.D. & author of The Healing Power of NatureFoods: 50 Revitalizing SuperFoods & Lifestyle Choices to Promote Vibrant Health and Be Healthy~Stay Balanced: 21 Simple Choices to Create More Joy & Less Stress.
"Losing weight couldn't get much easier. But much more than that, without judging and preaching, Dr. Leslie makes you will feel good about yourself every step of the way. With passion and love, she honors you for who you are, where you are on your journey, and what your vision is for yourself. She then helps you transform that "I wish" vision into "I am" reality!"
- Lance Secretan, author of ONE: The Art and Practice of Conscious Leadership.
"Follow Dr. Leslie's 10+10 for Life and all those frustrations from those restrictive diets that never worked will disappear, right along with that weight. Refreshingly, Dr. Leslie masterfully cuts through the confusion and offers a simple solution for losing weight – the right way. And big bonus: she's right on with her food facts. Instead of listening to the food industries' slick marketing ads masquerading as nutrition information, take it from an intelligent, experienced woman who knows her stuff. And even better, she walks her talk. Dr. Leslie is a shining example of glowing health and vibrancy." - George Eisman, Registered Dietician, author of The Most Noble Diet and Don't Let Your Diet Add to Your Cancer Risk
"Dr. Van Romer shares her powerful formula for permanent weight loss and optimal health. Getting Into Your Pants is a book that will motivate and inspire people to make positive changes in their health and their life."
- Joel Fuhrman, M.D., author of Eat To Live and Fasting and Eating For Health.
"Dr. Van Romer's book, Getting into Your Pants, extends the amazing broad-based effects of a plant-based diet to that all-important need - losing weight and keeping it off. I highly recommend it."
- T. Colin Campbell, Ph.D., author of The China Study and Jacob Gould Schurman Professor Emeritus of Nutritional Biochemistry at Cornell University
"Getting Into Your Pants is an entertaining read and a great review of the ten thousand reasons you need to follow a low-fat vegan diet."
- John McDougall, M.D., author of The McDougall Program – Twelve Days to Dynamic Health and The McDougall Program for a Healthy Heart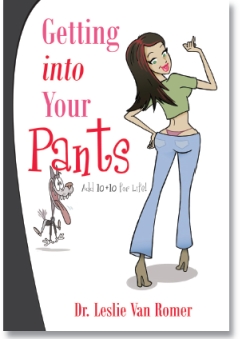 Dr. Leslie Van Romer - Author of "Getting Into Your Pants," chiropractor, weight-loss cheerleader, and feel-good-about-you motivational health speaker, Member of National Speakers Association.
Website: www.gettingintoyourpants.com
Email: Dr.Leslie@DrLeslieVanRomer.com