About EVEN
Exclusive EVEN
Interview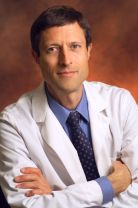 Neal Barnard, MD

President, Physicians Committee for Responsible Medicine (PCRM)
EVEN Interviews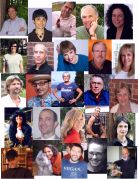 Read ALL of EVEN's Exclusive Interviews

EVEN

Non-violence Compassion Sustainability

--- EVEN - Serving as
a vegan resource
since 2005 ---
EVEN Featured In:
~ 24 Carrot Award (Vegetarians in Paradise)

~ Vegan Awareness Year (Mayoral Proclamation, City of Eugene)

~ American Vegan Magazine (American Vegan Society)

~ Volunteer of the Year (United Way)
Become a Member
Please visit our sponsors!
Click on their logos below.
Veg Spotlight
Shop to Support EVEN

Use AmazonSmile for your purchases and Amazon will donate to EVEN!
Veg Wisdom
Many things made me become a vegetarian, among them the higher food yield as a solution to world hunger. - John Denver
Wayne Geiger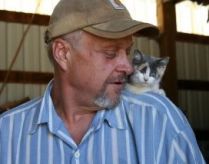 Wayne Geiger is the Founder and Director of the Lighthouse Farm Sanctuary which was formed in 2002 as a 501(c)(3) non-profit. The Sanctuary is Oregon's premier farm animal sanctuary, but frequently assists all types of animals in need. The picture shows Wayne with a recently abandoned kitten found in the Chicken Barn.(the kitten has a new home and is doing well.) After 5 years of renting property for animals of abuse and neglect, the Sanctuary recently purchased 54 acres in Scio/Stayton area. Since its inception, Wayne has been a primary humane investigator for such notable cases such as the Ark Animal Sanctuary in Tillamook and several cases throughout Oregon.
Most recently, the Lighthouse Farm Sanctuary has teamed up with "Farm Sanctuary" in receiving 10 young pigs from the Iowa floods. Locally, Wayne is involved with the Linn County Sheriff's Dept. with a severe case of animal neglect involving three starving horses. A new challenge has been presented to the Sanctuary in the form of "foreclosure animals". To meet this challenge, a new adoption center off site web link has been launched to help people find new, lifelong, permanent homes for their animals in need. "A farm animal match making service." Go to the Sanctuary's website and click on "Adoption Center."
The Lighthouse Farm Sanctuary mission is to rescue, rehabilitate and place abused and neglected farm animals. We work to educate the public in Farm Animal Welfare and advocate for public policy change. More about the Sanctuary is available at:

http://www.lighthousefarmsanctuary.org